About the Artist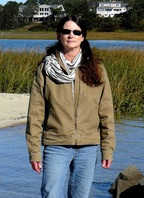 My tile work is unique and distinctive and includes single art tiles, tile murals and mosaics, all of which are suitable for display or installation. The designs I glaze onto the tiles vary from natural themes to abstract geometrics and are at times a melding of both.

The tile surface becomes my "clay canvas" for reflecting a wide range of images and ideas from experiences in my life. I choose to apply glazes with a brush to achieve clean, uncluttered lines and shapes. The deliberate interplay of gloss colors, matte colors and the clay surface all combine together to create an interesting visual image. Having my hand in the creation of the tiles gives me a sense of satisfaction that no other media can.

My tile work has been shown in numerous juried art exhibitions and festivals and is represented in collections throughout the country and internationally. I am a member of the American Craft Council and the Tile Heritage Foundation.

---