Overview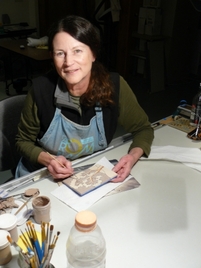 All tiles are entirely hand-made originals created one at a time from start to finish with each step of the process carefully performed and checked in order to provide a high quality product.

A stoneware clay body is rolled to 3/8" thickness and cut to size by hand, slowly dried at ambient temperature for 2-3 weeks and then bisque fired for approximately 12 hours up to a temperature of 1,940 degrees fahrenheit. Next the design is laid out by hand on each individual tile and the glaze carefully applied by brush. The glazed tiles are then kiln fired over a 12-13 hour period reaching a temperature of 2,230 degrees fahrenheit in order to provide vitrification, strength, durability and lasting beauty.

Tiles are produced in standard 3" and 4 ¼" sizes, however other sizes can also be produced, within limits, and are quoted upon request.

Glazes can be applied in various color combinations. Selections can be made based on sample tiles shown in the Gallery or from the color chips available at the studio. Please note that colors shown in the Gallery are only representational due to variations in computer monitor color calibration.

Slight variations from one tile to the next are the hallmark of handmade tiles and are not only to be expected but are considered a desirable aspect.

Tiles are suitable for both interior or exterior installation and among other things can be hung on a wall, displayed on an easel, used as a trivet, framed or used as coasters.

---